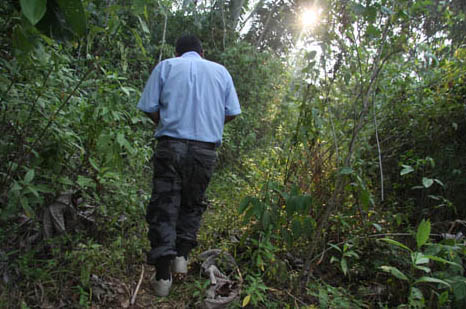 " I have visited Mayantuyacu 3 times since 2010 and each time I connect more with my heart and myself, and resultingly more with others in my life. The land, plants, and boiling river are so beautiful, peaceful, and healing. I am so truly grateful for Maestro, Sandra, Brunswik, and Henarte for the work they do for everyone. Mayantuyacu is a blessing and gift to this planet and beyond."
Sarah
"I first went to Mayantuyacu in the Spring of 2005 and I've returned a total of 5 times. In the process, my body has become stronger yet more flexible, my mind has grown calmer and is thus more focused. Overall, this has contributed to an increased sense of spiritual peace. Thank you Maestro and Sandra!"
Andre Clement
"I first went to Mayantuyacu in 2006. Being in Mayantuyacu allowed me to connect with the plants in such a unique way. I felt such support from all living beings during my journey there. Sandra, Maestro and their super team were most welcoming and they put so much care into all they do for us. I feel truly blessed to know them and to have shared this time together. beaucoup d'amour"
Nathalie
"'Mayantuyacu is an earth bound paradise that reflects the heaven that rests within each of us. It is a place to heal and connect with the self as a divine being. This sacred union is the most precious gift one can give themselves"
Niki Troski
"Mayantuyacu became a place very near and dear to my heart in a very short period of time. If you are looking to make positive and long lasting changes in your life it is a beautiful place to start. Juan is a man who possesses an incredible amount of knowledge, understanding, and compassion. What is equally incredible is where this knowledge comes from. If you find yourself here, pay attention. And have patience. The lessons you take home with you will be both profound and infinite, and often in the most subtle of ways."
Rachel Neumeier
Testimonials of travellers with Robert Tindall and Susana Bustos
"Journeying to Mayantuyacu with Robert Tindall was a blessing for me that was greater than I can put into words. My experience in this heavenly sanctuary in the rainforest of Peru transformed me to the core. I returned home a new man, plain and simple. What's more, the experience was very different than I had imagined it before going. I had thought it would take me to places in myself that, perhaps, I wouldn't be able to handle. But, quite to the contrary, the moment I arrived in Lima, I began feeling a deep sense of relaxation, peace, and homecoming. Arriving at Mayantuyacu, my heart began to open, immediately, and I felt a quality of love and care that permeated the whole landscape and each and every person who lived and worked there. Finally, the healing that I received left me feeling more integrated, conscious, and grounded in myself, in my purpose as a human being, and in my confidence and ability to engage my life and work with more passion, conviction, and heart-centered focus and practical awareness. Said another way, Juan Flores and his apprentices offered me the most masterful and graceful healing that I have ever received in my life. And, Robert Tindall's support and facilitation of my process, with his sensitivity and awareness, demonstrates the depth of his understanding of the process of engaging this powerful medicine work. My 12-day stay at Mayantuyacu was nothing less than life-changing. I plan to return next summer, and the summer after that, and the summer after that….Mayantuyacu is now part of me and I am part of Mayantuyacu. Thank you for everything, Robert!"
"My first morning at Mayantuyacu, surrounded the sights, sounds, and smells of the jungle, I knew that my decision to embark on that first journey was a good one. So much so that I returned again the following year and plan to do the same in 2012.
I remember Juan telling us that Mayantuyacu was our home while we were there and it certainly began to feel that way. The people that live and work there are so kind, happy, and generous. There is a beautiful flow and synchronicity to everything that happens. It is the perfect place to awaken to the beauty that is life on this planet. Robert is an easy-going leader that's always there when you need him, yet allows ample time for you to explore on your own. I have great admiration for the profound love and respect that Susana and Robert have for the medicine. They have both been wonderful mentors to me as I find my way."